We are pleased to introduce our company as mainly dealing with ships' repairs.
P.P.LIAKOS GENERAL SHIPS' REPAIRS has a tradition, since 1970, in the repair of all kinds of diesel engines.
Our workshop is fully equipped with latest machinery technology (NC and CNC technology) of high fabricating capability (diameter-length) and has the ability to carry out successfully the repairs of main and auxiliary engines and auxiliary machinery in a very short time.
Also, the workshop provides technichian teams who can be sent and operate worldwide.
Our reconditioning department is also available for piston crowns, exhaust valves and cylinder covers in order to ensure the quality of projects that are well known and approved by all classification societies.
In addition we stock, on exchange base, a wide range of spare parts.
P.P. Liakos has certificate of approval ISO issued by Lloyd's Register, since 1990 and is currently certified to ISO 9001:2000.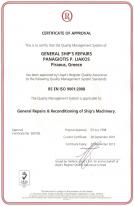 | | |
| --- | --- |
| | |
| Mr Panagiotis P. Liakos - Chairman | Mr Chistos A. Tsiaras - Managing Director |